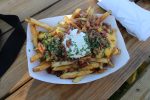 About this Food Truck
Mr.McGill does fries 10 different ways! London Broil & Philly Cheesesteak Sandwiches, Pulled Pork, Sausage & Peppers, Wings 10 different ways, Fried Dough, Chicken Riggies, & Greens!
About this Food Truck
We are a family-run food truck business that shops locally. We offer a wide variety of menu items cooked fresh on site.