Pasta
About this Food Truck:
Michael T's is a local family-owned Italian restaurant in New Hartford, New York serving delicious Italian dishes and drinks in the Mohawk Valley. Since 1983, we've created and served favorites like chicken riggies, greens and seafood dishes like our famous fresh haddock.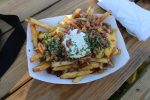 Type of Food:
American, Burgers, Chicken, Dessert, Italian, Mac and Cheese, Pasta, Riggies, Salads, Sandwiches, Specialty
About this Food Truck:
Mr.McGill does fries 10 different ways! London Broil & Philly Cheesesteak Sandwiches, Pulled Pork, Sausage & Peppers, Wings 10 different ways, Fried Dough, Chicken Riggies, & Greens!
About this Food Truck:
Spudz is a roaming food truck that sells potato based dishes with a gourmet twist. We only use the freshest ingredients and are a 100% from scratch kitchen.