About this Food Truck
Michael T's is a local family-owned Italian restaurant in the New Hartford & Utica, NY area serving delicious Italian dishes and drinks in the Mohawk Valley. Enjoy chicken riggies, greens, and so much more!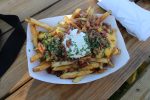 About this Food Truck
Mr.McGill does fries 10 different ways! London Broil & Philly Cheesesteak Sandwiches, Pulled Pork, Sausage & Peppers, Wings 10 different ways, Fried Dough, Chicken Riggies, & Greens!